Gold and Oil making big moves for big profitsCreated: 8th Feb 2021
I just had to do a video on the recent moves on Gold and Oil.
You know, we are always asked about whether we trade commodities.
And whilst the answer is yes, it is important to know they move faster than FX, which means wider stops and typically smaller stakes.
That said, when they move, they really move and can pick up some significant moves.
For example, the most recent Sniper trades have picked up moves so far of 380 points on UKOil (Brent Crude Oil) and 520 points on Gold.
And these trades have only been open for a max 5 days.
And the strategy – which I'll be telling you about in this free session – takes as little as 20 minutes a day, following a simple set of rules.

See it and learn how to use it in this free online session.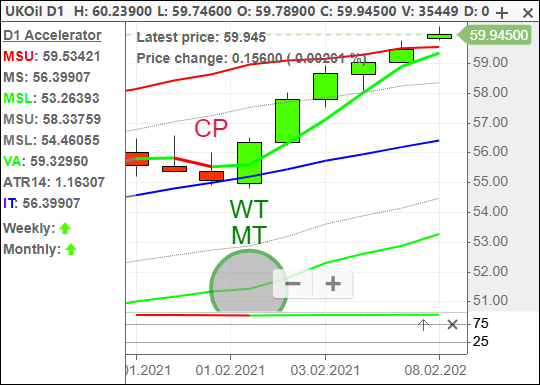 Look, I am not expecting every trade to move that much, and I could argue that these trades have overshot their typical objective, but certainly in the case of UKOil, there are some exceptionally strong trending markets right now, and our Accelerator Snipers are picking up plenty of BIG movers.
In fact, when I compress the chart, you can see the most recent Sniper trades over the past few months, starting with a +500 cent fall in October, followed by 5 Buy Snipers (notice the Red and Green rim to the Disks automatically printed on the chart).
If that sounds like something you'd like to check out...

Make sure you're at this free live online event.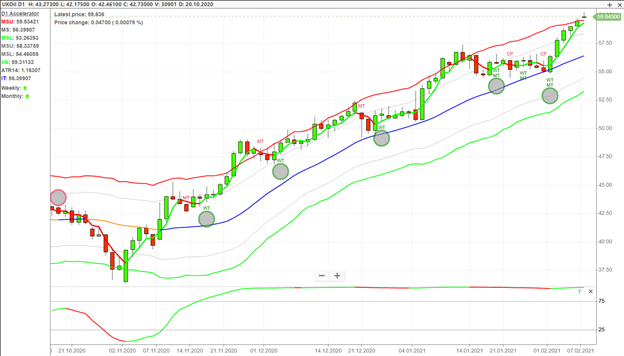 Yes, the 4th buy is a loser (unless you were quick to take profit since it only rose 44 cents after the buy) but the others are big, stonking +400 point moves, barely showing any hint of a pull back or stop-out.
Gold has been similarly profitable.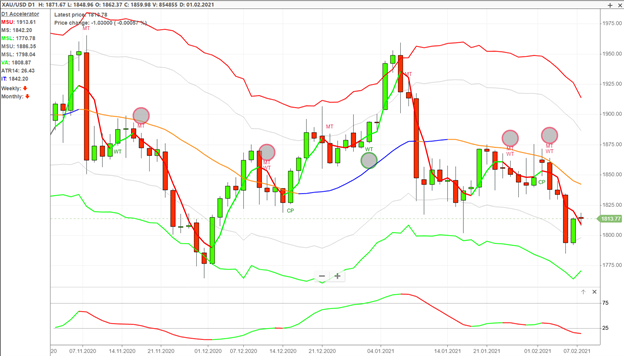 Again, you can see the "Grade A" trades covering the past few months.
Yes, Gold has been rather more sideways over that time than the rampant uptrend on UKOil, but it hasn't stopped it picking up 5 +150 point winners.
And you have to remember what this strategy is for…
It ISN'T looking for 1000 point moves.
We are looking for a typical hold of 2-3 days.
And with that, we have tight stop losses and a realistic view on targets.
I mean, whilst it would be lovely, we aren't so likely to see a 1000 pip moves in 3 days. But, 100 – 150 points on GOLD??
Absolutely.
Yes, we can learn to hold on and ride the bigger moves, but as a new trader, the joy of this strategy is being able to spot the next burst of momentum for yourself.
Easy to identify, quick to release and away we go.
As explained in the video, some exceptional trades here, actionable even by a new trader… if you have the right technology.
Happy trading
P.S. These sessions are free – and they're popular with our readers. That means that they book up quickly.

So, to make sure of a place, reserve it NOW.

Choose which session you'd like and book it here.
Category: Trade of the day